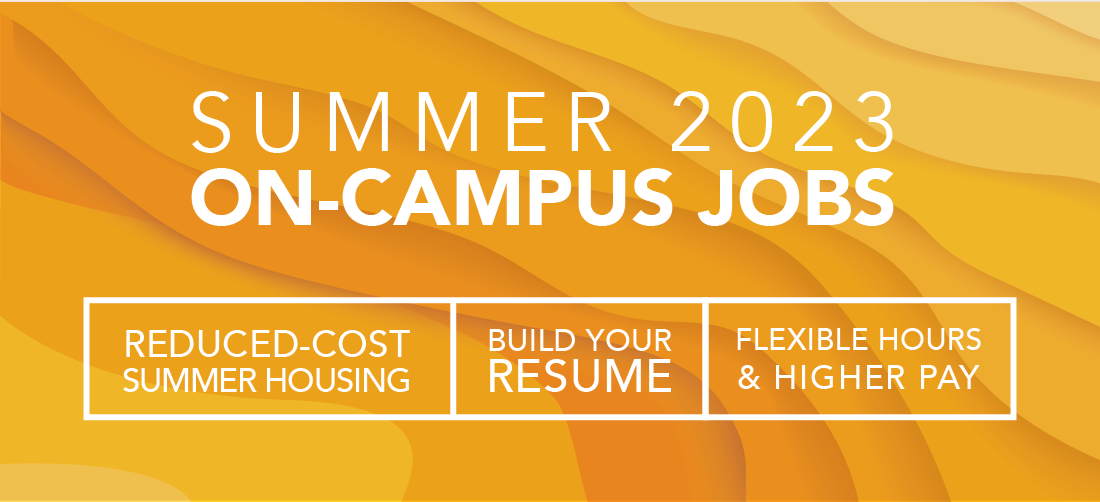 Have you considered working on campus this summer?

When classes end in May, UW-Whitewater continues to be open when students leave the campus for the summer. Many departments hire UW-Whitewater students to help out during the summer months. You do not need to be taking summer classes at UW-Whitewater to work on campus over the summer.
Check out the current list of available on-campus summer job opportunities here, and apply in Handshake!


Check out the many benefits of working on campus staying in Whitewater for the summer!
Reduced Cost Summer Housing: Any UW-Whitewater student can choose to live on campus this summer for a very reduced price ($50 per week or $300 maximum for the entire summer). For questions about summer housing, please contact University Housing at housing@uww.edu.
Flexible Hours and Higher Pay for Campus Jobs: Some departments offer a higher pay rate for students working on campus over the summer, and many offer flexible part-time or full-time work schedules.
Build Your Resume: Summer campus jobs typically offer more responsibility and additional projects to help you build your skills and add experiences to your resume.
Get to Know UW-Whitewater: Learn more about our campus and build connections with coworkers, supervisors and UW-Whitewater staff members. You can also enjoy the beautiful landscaping our campus offers during the summer months!
Fun Things to Do in the Whitewater Community: Whitewater and the surrounding communities have a lot to offer! With lots of restaurants, indoor and outdoor recreation opportunities, events and entertainment available all summer, there's a lot to do in your free time. Check out this website for a list of some of the awesome things you can do in the Whitewater area during the summer months.
Fall On-Campus Job Opportunities
If you're thinking about working on-campus next fall, be sure to check Handshake for current opportunities at https://uww.edu/handshake. Some departments are already hiring students for next fall right now, and many more will continue to post their opportunities through the summer months. Take advantage of the opportunity to line up your fall job now so you're set for next fall!
Questions
If you have any questions about working on campus or how to find a job on Handshake, please reach out to Career Services at career@uww.edu or 262-472-1472.